The week when biosimilars have become more real
It has been a very important week for pharmaceutical and biotech companies. The dichotomy of corporate fortunes hinging on the biosimilar world glares starkly at all involved. On Tuesday, USFDA panel of experts favorably voted for Amgen's biosimiar of Abbvie's Humira. On Wednesday, USFDA's panel voted favorably for Sandoz's biosimilar of Amgen's Enbrel. The world of biosimilars became more real; and the globally leading pharma and biotech companies became more apparent as the ones with originator drugs and the most advanced biosimilars. To add to all the encouragement, the FDA advisers have recommended approval of the biosimilars for all indications treated by the innovator drugs and indication extrapolation is also more real now in the US context.
While the EMA has been encouraging for the last couple of years and there are country success stories of biosimilar adoption in Europe, this week marks the USFDA extending the same level of support for biosimilars and heralding a new era in the actualizing of value in the emerging business segment.
Are the floodgates open and are issues addressed?
There is still lobbying against substitutability and 2016 will again be important when initial substitutability decisions are made in US. The business models will become more evident as that clarity evolves. The other end of the equation is pricing. Expectations on price erosion today range from a low 25% all the way to an extremely high 75%. Leaders of large generic companies have gone on record calling the reactions and uncertainty déjà vu to when generic drugs were introduced in the US in the 1980s. If it truly is a déjà vu situation, it will be pertinent to take note that generics today constitute 88 percent of all US prescriptions.
As intriguing as it is to see Amgen on both the benefiting and receiving end this week, another key question that remains is if the biosimilar business is for everybody. Many pharmaceutical CEOs have lost sleep deciding on when and how to enter biosimilar and how deep they should sink their feet. The binary risk and significantly high investment in product development and clinical validation have been a deterrent for many, especially the generic companies whose core business carries a much lower risk quotient. Increasingly high clarity emerging on markets and regulations will help allay some of their fears and foster greater investment in the biosimilar segment. A new era it is, and old generic players will begin to sink their feet soon as the value becomes more tangible and risk more palatable.
Author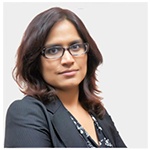 Pushpa Vijayaraghavan
Director
Connect with Authors at: lifesciences@sathguru.com