A generic to the rescue this time – what's our sustainable game plan
The $15 billion Indian pharmaceutical market has only been getting more competitive with domestic companies growing bigger and global giants actively pursuing greater market share. While the former has the advantage of a deeper understanding of the pulse of the market and stronger capability to sell products in the Indian context, the latter has been primarily armed with proprietary product portfolios that are result of decades of global product development investments. With the disease profile in India evolving to converge more and more with the west, portability of global product portfolios has significantly increased. While infectious diseases continue to be a big bane, lifestyle diseases such as diabetes, cardiovascular diseases and also cancer have been a health burden as well as market drivers for pharmaceutical companies.
In the branded pharmaceutical domestic market, companies have historically relied on sales driven strength to penetrate the market and drive growth. The next step has traditionally been backward integration with manufacturing ensuring cost competitiveness. A few of the market leading companies have been forward looking and have been partners with global product developers; and there are instances of strategic marketing arrangements and few earlier stage licensing deals as well. A select few stand out as pipeline builders and investors in R&D. However, the last category of companies remain a real minority. Again, very few within thesehave made significant product development investment focused on Indian market with most pipeline building efforts being focused on regulated markets with higher revenue potential. While the probability of Indian pharmaceutical industry more intensely engaging in innovation driven product development is often debated, the impending need to do is only intensifying each day.
The case of diabetes drugs is a loud and clear illustration of the problem. The incidence of diabetes is growing into epidemic proportions and India is anticipated to have the largest number of diabetics in the world by 2030. Consequently, the chronic segment and particularly diabetes has been a significant growth driver in the Indian pharmaceutical market. While established generic drugs like metformin have traditionally dominated this market, newer classes of drugs have now emerged as strong contenders. Great examples are drugs like DPP-4 inhibitors and insulin analogs with both together commanding close to half a billion dollars in revenues (Rs. 2500 to Rs. 3000 crores). These being patent protected drugs developed by a few MNCs, most Indian companies have been blocked out of the market. Most of them have tried to participate in this market by through strategic marketing partnerships. However, the strategy has limitations on long term value creation and is a short term solution at best. A ray of hope has now emerged since one global product developer failed to protect the IP in India. Glenmark has now launched a generic of teneligliptin and other Indian companies are expected to do so soon. While this implies respite for Indian patients since it will bring down the price of the drug by half, leveraging IP gaps is a solution that is far from being sustainable for the industry at large.
With new classes of drugs emerging and gaining greater market share in various therapy areas, the urgency for the industry to leap frog investment in product development looms large and clear.
While there is innovation in pockets and steps are being taken towards more rigorous portfolio building, the gaping questions remain – are we gaining momentum and intensifying the efforts at the pace we need to? Are we adopting ingenious strategies to introduce commercial feasibility into innovation efforts to make it a reality in India? Are we emerging as strong collaborators to work with the world on an optimized innovation agenda?
Author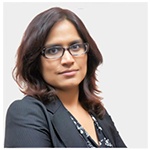 Pushpa Vijayaraghavan
Director