Evolving commercial opportunities in the underserved BoP diagnostics market
Healthcare access for Bottom of the Pyramid (BOP) population has been a subject of constant debate in India. Close to 70% of Indian population still struggles for access to good healthcare and the sheer quantum of potential opportunity has been a lure for the corporate sector. While certain areas such as maternal and child health have been gaining significant attention, diagnostics remains a relatively under-rated problem and opportunity.
Publicly owned diagnostic infrastructure is situated in nodal hubs such as district hospitals. Their functionality is affected by factors like dearth of both high quality infrastructure that functions continuously and trained pathologists and other skilled manpower required to perform the diagnostic tests. This creates a dire void as accurate and timely diagnostics are the first steps to disease detection and treatment. This creates an opportunity for the private sector to have a meaningful impact while commercially benefiting from bridging the void.
As we work with stakeholders in the ecosystem to address this challenge, we see several models emerging as possible solutions:
Public-Private Partnerships (PPPs): PPPs in diagnostics have become popular recently with certain state governments outsourcing diagnostics for the public health system to leading reference labs. While tender terms have been a constraint in some of the tenders, PPPs could continue to be explored as a solution as long as Governments don't make purely price based decisions and have a mechanism of engaging only entities that promise reliability.
Devices particularly engineering for low-cost settings: Thanks to the innovation wave that has emerged in the last few years, there are now several entities developing diagnostic devices particularly engineered for low-cost settings. Notable examples include Reametrix's TB diagnostics device and Bigtec's RT PCR. Such devices have been engineered to provide sensitivity and specificity at a significantly lower cost and can be effectively operated in low-resource settings with limited training. While high judiciousness is needed on extent of clinical need, this wave of applied innovation offers erstwhile non-existent solutions for BoP diagnostics.
PoC diagnostics and novel delivery agents such as pharma companies: Point of Care (PoC) diagnostics creates possibility to bridge the gap in diagnostics infrastructure. It also offers the benefit of real time results and hence could be used in the primary care settings without the time delay involved in sending samples to nodal diagnostics setup. However, their adoption has been very slow on account of several reasons. The key barriers to adoption have been relatively low specificity and sensitivity, lack of established procurement models for public health adoption and resistance from doctors and traditional diagnostic service providers in the private healthcare segment. As an inexpensive option, many patients, even in the BoP segment, could have the propensity to pay for PoC diagnostics. In the absence of an established procurement model, there is a great opportunity for novel delivery agents such as pharma companies to sell such PoC diagnostic kits across market segments, including BoP, and leverage consumers' willingness to pay for time advantage and accelerated decision making. A leaf can be drawn from the animal health segment where pharma companies have been pedaling PoC diagnostics for a while and benefiting from the gap in infrastructure and extension services
While several possibilities are evolving, the ideal model for sustainable solution is still elusive. The landscape calls for ingenuity in conceptualizing solutions that are attractive to all stakeholders so that we can accelerate the effort to bridge the gap in access to healthcare in India.
Stand up, India!!It is time to rethink and remodel healthcare delivery at the deepest node.
Authors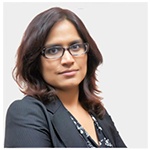 Pushpa Vijayaraghavan
Director