A Mixed Landscape In 2019
Pushpa Vijayaraghavan, Director, Sathguru Management Consultants, predicts that pharma in 2019 will be a mixed landscape of transformational innovation, value chain shifts and tapered growth with continued pricing pressure
Most regional Indian new year celebrations include a sweet, sour and tangy dish to denote multiple facets of life as we step into another year with optimism and hope. When viewed with a wider strategic lens, the pharma journey in 2018 and what we expect in 2019 couldn't be more poignantly reflective of this reality and how multi-dimensional the evolving dynamic is:
Transformational promise of next-gen healthcare
As a generation, we have the privilege of witnessing the transformation of healthcare into next generation of possibilities. Cost of sequencing being reduced to a fraction of erstwhile levels has opened up wide possibilities for pharma and diagnostic companies as well as healthcare delivery overall, but the true clinical and commercial potential is yet to be realised. 2019 will continue to witness great strides in personalised care – use of genomics and proteomics to deliver therapeutic solutions with higher efficacy though more targeted care for stratified population subgroups. We will continue to revel in the potential of immuno-oncology and other high impact areas of science that now have high level of scientific and investment depth. Finally, we are most excited about the transformative potential of pipeline innovations in gene therapy and gene editing. While 2018 was the landmark year for approvals, 2019 will be the landmark year for market adoption, evolution of more sustainable pricing models, and strengthening of global pipeline in this controversial yet highest potential pursuit within the healthcare domain.
Reality of cost burden and changes in value chain
While we push the boundaries on therapeutic possibilities, we continue to grapple with the burden of healthcare costs across the world. This is resulting in multiple tectonic shifts – a significant reshaping of power across the value chain as well as intensifying pricing pressure across product categories. The generics segment will have continued stress from such pricing pressures and the 'new normal' pricing levels are here to stay. Competition levels of the post-GDUFA regime will continue and will rationalisation is at least couple of years away. Greater emphasis on value-based pricing is expected around the world. Pricing and negotiation power is likely to tilt with re-scripting of the value chain in the most important target markets. Greater integration across stakeholders is expected to continue and the momentum triggered by the active M&A landscape (CVS-Aetna, Cigna-Express Scripts, United Health-Avella, Amazon-Pillpack) is only expected to intensify. Information islands will shrink with such integration across care providing and paying entities paving the way for more optimised healthcare delivery costs but also higher negotiation power in the payor ecosystem.
India Pharma Inc: Looking beyond generics
As the crowned pharmacy of the world, the Indian pharma industry has been reeling under the global pricing pressure, especially in the US, the largest target market by value. Leading generics companies have concentrated portfolio expansion focus on a smaller set of relatively complex formulations. As Indian companies court success in such turbulent times, we expect them to have higher selectivity on portfolio products, deepen appetite for partnerships and prioritise agility in path to market.
Simultaneously, the gradual shift to specialty pharma will further evolve. Several Indian majors have laid the foundation by identifying therapeutic areas for strategic focus (ophthalmology, oncology, dermatology, CNS et al) and are actively scouting for partnership opportunities. We anticipate these diversification investments to get more aggressive in 2019 and be the primary M&A driver for larger Indian pharma companies. 2019 will witness portfolio development for US specialty business and will also have precursor commercial investments to build front end capability to detail products to clinicians. We foresee big ticket M&A activity being limited and opportunistic, and deal landscape shaped largely by portfolio expansion dovetailing growth aspirations.
Other key trends
While the complex generics and specialty strategy is executed in regulated markets, we foresee the same overall mantra of quality over quantity being applied even in the RoW markets. In this segment, we expect geographic consolidation and more intense quest for success in fewer markets. 2019 also holds promise of being the year when Indian formulation exports to China could take centre-stage as the latter has relaxed import duties on several high value oncology formulations.
The domestic market has high promise of growth and chronic segments will continue to the kingpin. Appetite for brand acquisitions will continue to be high and growth will be driven by both organic market expansion and portfolio expansion. As aggregated procurement programs such as the Amrit pharmacies are expanded to support Ayushman Bharat implementation, 2019 could even be the year when a viable solution for healthcare access in the Indian context could emerge and price control could gradually be rendered redundant. The foundation of aggregated procurement model with direct bids from pharma companies could be the most significant change in the domestic turf pushing market boundaries and expanding access to care in a sustainable manner.
Lastly, we expect greater focus on operations rigor, quality, digitisation and data security across pharma companies focused on regulated markets. Business continuity risks associated with regulatory observations are the single largest threat still faced by industry; and significant management attention and investment is anticipated to be guided by the intent to better manage this risk. Health of the industry lies in the operational backbone and preventive focus will take centre-stage.
Source: Express Pharma
---
Author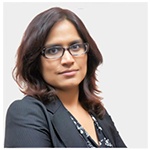 Pushpa Vijayaraghavan
Director & Practice Lead – Healthcare
Connect with Author at: E-mail healthcare@sathguru.com