"Zero budget natural farming"- A sustainable farming approach?
Agriculture has been the mainstay of the Indian economy for centuries. About 70% of rural households depend primarily on agriculture, and nearly 86% of India's farmers are categorized as "small and marginal". Input cost in the form of seed and chemical fertilizers are one of the biggest expenses for a farmer. Conventional techniques in agriculture not only adversely affect the environmental health but also financial health of the farmers.Alternative low-input farming practices have emerged in pockets across the world with the promise of reduced input costs, higher yields for farmers, improved soil fertility and chemical-free food for consumers.
Zero Budget Natural Farming (ZBNF) is one such low-input, farming method that encourages farmers to use low-cost locally-sourced inputs, eliminating the use of artificial fertilizers and pesticides. Intercropping is an important feature of ZBNF. ZBNF is 'zero-budget' because the costs of the main crop are offset by income from intercrops.'Natural farming' means farming with nature and without chemicals.There are four aspects of ZBNF (i) beejamrutham, treatment used for seeds, seedlings or any planting material (ii) jeevamrutham, to multiply soil microbes (iii) Acchadana – Mulching and (iv)Whapasa –soil aeration through a favourable microclimate in the soil.
The benefits of ZBNF are especially valuable to smallholder farmers who grow on their own land and owe their livelihood to their produce.Securing money for farming and their payment is a challenge faced by the farmers in India.Under such conditions, 'zero budget' farming could be an alternative that aims to end a reliance on loans and drastically cut production costs, ending the debt cycle for desperate farmers. It also could be a solution to fight climate change and create resilient food systems. Climate resilient ZBNF (CRZBNF) is being promoted as a model for nation-wide adoption by NITIAayog, and globally by UNEP (United Nations Environment Programme)https://blog.sathguru.com/wp-admin/edit.php. Zero budget natural farming is being scaled in Andhra Pradesh and is practised in several other states of the country. The push for ZBNF by the Andhra Pradesh government has inspired Karnataka and Himachal Pradesh to adopt it as well. We need to watch out for the outcome.
While ZBNF seems to hit the right chords when it comes to environmental sustainability its commercial scalability and the impact on productivity has to be evaluated.
Author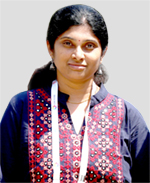 Poornima Gade
Consultant